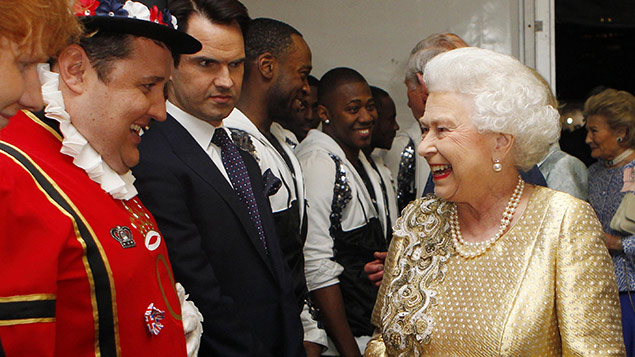 HM Queen meets Peter Kay and Jimmy Carr during jubilee celebrations. The UK has an extra bank holiday in 2022 for her Platinum Jubilee. Photo: Dave Thompson/PA Wire/PA Images
Furlough presents an additional complication for which employers need to ensure they pay their staff correctly for a bank holiday. Our usual list of five things employers need to know about bank holidays becomes six, with a description of how employers should handle public holidays during furlough.
Most of the UK has eight permanent bank holidays per year: New Year's Day, Good Friday, Easter Monday, May Day, Spring Bank Holiday, Late Summer, Christmas Day and Boxing Day. However, Scotland has omissions and additions and Northern Ireland has two extra public holidays in relation to the bank holidays taken in England and Wales. The government has confirmed an additional UK bank holiday in 2022 to mark the Queen's Platinum Jubilee.

How much do you as an employer know about employment law concerning bank holidays? Here are six things you really should know:
1. There is no statutory right for employees to take bank holidays off work. Any right to time off depends on the terms of the employee's contract of employment.
2. When an employee works on a bank holiday, there is no statutory right to extra pay – for example "time and a half" or double pay. Any right to extra pay depends on the terms of the employee's contract of employment.
3. If they have employees currently on furlough, employers need to be careful around bank holidays. If, in their employment contract, bank holidays are included in holiday entitlement, employers have two choices. They should pay the employee in full for the bank holiday that falls during furlough, or substitute it with a day's annual leave to be taken at a later date. However, if the furloughed employee is not entitled to bank holidays off in their employment contract, a bank holiday will have no effect on their pay during furlough.
Bank holidays 2020, 2021, 2022
Wed 1 Jan 2020
Thu 2 Jan 2020 (Scotland only)
Tue 17 Mar 2020 (NI only)
Fri 10 Apr 2020
Mon 13 Apr 2020 (except Scotland)
Fri 8 May 2020 (moved from 4 May for VE Day)
Mon 25 May 2020
Mon 13 Jul 2020 (NI only)
Mon 3 Aug 2020 (Scotland only)
Mon 31 Aug 2020 (except Scotland)
Mon 30 Nov 2020 (Scotland only)
Fri 25 Dec 2020
Mon 28 Dec 2020
---
Fri 1 Jan 2021
Mon 4 Jan 2021 (Scotland only)
Wed 17 Mar 2021 (NI only)
Fri 2 Apr 2021
Mon 5 Apr 2021 (except Scotland)
Mon 3 May 2021
Mon 31 May 2021
Mon 12 Jul 2021 (NI only)
Mon 2 Aug 2021 (Scotland only)
Mon 30 Aug 2021 (except Scotland)
Tue 30 Nov 2021 (Scotland only)
Mon 27 Dec 2021
Tue 28 Dec 2021
---
Mon 3 Jan 2022
Tue 4 Jan 2022 (Scotland only)
Thu 17 Mar 2022 (NI only)
Fri 15 Apr 2022
Mon 18 Apr 2022 (except Scotland)
Mon 2 May 2022
Thu 2 Jun 2022 (replacing 30 May)
Fri 3 Jun 2022 (extra for jubilee)
Tue 12 Jul 2022 (NI only)
Mon 1 Aug 2022 (Scotland only)
Mon 29 Aug 2022 (except Scotland)
Wed 30 Nov 2022 (Scotland only)
Mon 26 Dec 2022
Tue 27 Dec 2022
4. A part-time worker has the right not to be treated less favourably than a comparable full-time worker. This includes entitlement to bank holidays.
The best practice – and safest – approach to part-time employees is to give them a pro-rated allowance of paid bank holidays, irrespective of whether or not they normally work on the days on which bank holidays fall.
5. If an employee is required to work on bank holidays under the terms of their employment contract, the employee cannot refuse to work, even for religious reasons.
However, employers should be aware that a refusal to grant Christian employees time off for any of the bank holidays with religious significance could amount to indirect religious discrimination if it places them at a particular disadvantage when compared with employees of other faiths, or non-religious employees.
6. If employers have worded contracts to say that employees are entitled to "statutory entitlement plus bank holidays", this no longer denotes 20 days' leave plus eight bank holidays. Following the increase in statutory minimum leave from four to 5.6 weeks in 2009, this wording grants 28 days' holiday with eight bank holidays on top. Check your employment contracts to determine if this is an issue.
This style of contract wording can also mean employees receiving more bank holidays or fewer bank holidays than are required. This is an issue where the employer has a holiday year that runs from April to March and the timing of Easter weekend is such that the employee could receive as many as 10 bank holidays one holiday year or as few as six bank holidays the next year.
The last time this affected employers that use such wording was in 2018, when Good Friday was 30 March and Easter Monday was 2 April. The following year, Good Friday landed on 19 April 2019, while Easter Monday was on 22 April 2019. For a holiday year running 1 April 2018 to 31 March 2019, employees would appear to have lost out.
The next time this will be an issue for contracts that use such wording will be in 2024, when Good Friday is 29 March and Easter Monday is 1 April. This means that the 2023-24 holiday year would have nine bank holidays and 2024-25 would only have seven.
This article was first published in 2009 and last updated on 20 January 2021.
HR business partner opportunities on Personnel Today
Browse more HR business partner jobs