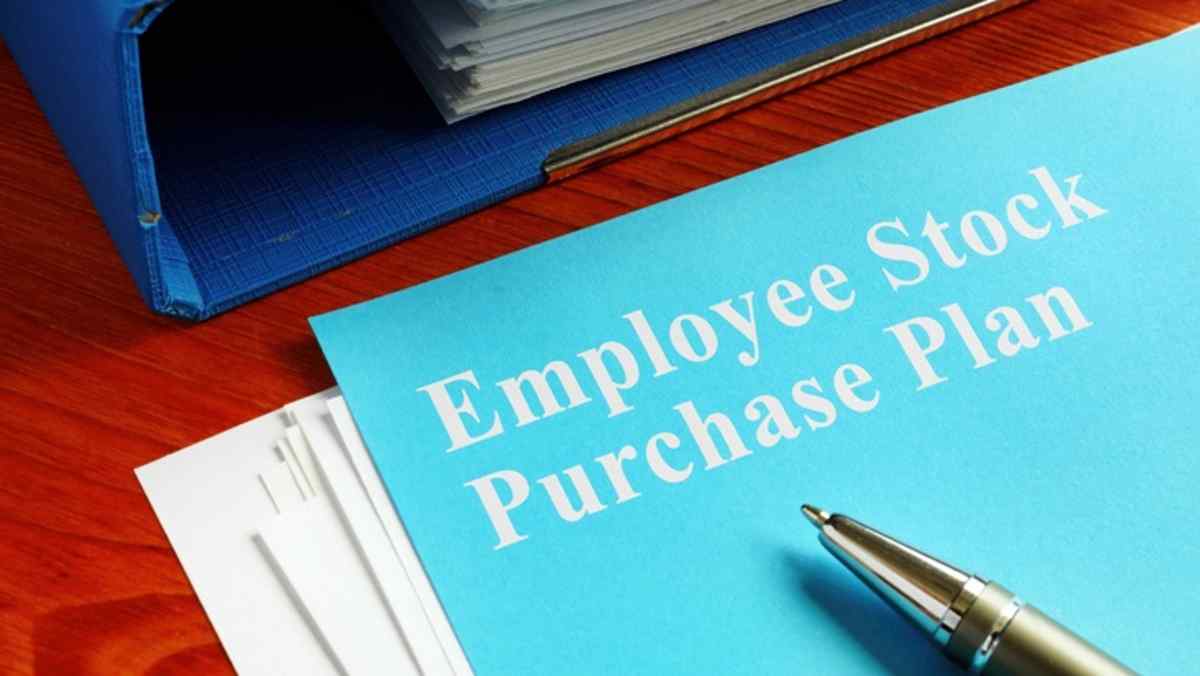 Nearly 9 out of 10 employees who participate in their company's employee stock purchase plan (ESPP) also participate in their 401(k), a new study by Fidelity Investments shows.
An ESPP lets employees purchase company shares through funds automatically deducted from their wages, usually at a discount of up to 15 percent, according to Fidelity. These shares are subject to taxes on the capital gains when sold—whereas assets purchased in a traditional 401(k) retirement plan are usually taxed at higher income-tax rates when withdrawn during retirement.
Fidelity's analysis of 250,000 employees with access to both a 401(k) and an ESPP found that employees in both plans contribute an average of 12.5 percent and 6.3 percent of their salary in their 401(k) and ESPP, respectively, while employees that participate only in their 401(k) contribute an average of 8.8 percent of their salary.
The higher contribution rate for employees in both plans is consistent across all income levels, not just among executives and highly paid employees. Employees with annual salaries between $25,000 and $50,000 who participate in both plans contribute an average of 8.3 percent and 4.7 percent to their 401(k) and ESPP, respectively, compared with a 7.4 percent contribution rate for employees who participate only in their 401(k).
An ESPP that's broadly available to employees throughout the company can give lower-level workers some of the equity rewards senior leaders enjoy through their executive compensation arrangements, which typically include grants of company shares or options.
"Historically, there has been concern that employees who have access to a 401(k) and an ESPP are faced with an either/or decision" about which to use, said Mark Haggerty, head of stock plan services at Fidelity. The analysis, however, shows that "participation in both plans can result in better retirement savings behavior and contribute to improved financial wellness," he noted.
Stock Discounts Encourage Participation
Plan design can influence the number of employees who choose to participate in their company's ESPP, Fidelity found. While ESPPs often offer workers the chance to purchase company stock at a discount ranging from 5 percent to 15 percent, many ESPP plans with a higher discount also offer a "look-back" feature, which can stretch the discount when the stock price is appreciating. A look-back compares the price at the beginning of the offering period to the price at the end of the purchase period (e.g., January 1 and June 30) and applies the discount to the lower price.
Fidelity's analysis found that ESPPs offering a 15 percent discount with a look-back have a participation rate of 44 percent, well above the participation rates for plans that offer lower discounts or no look-back.
"This analysis demonstrates that while it's important for employers to consider the workplace benefits they make available to their employees, it's also important to recognize how the benefits are structured and the positive impact of offering employees multiple benefits," Haggerty said.
Stock Plans Help Attract Millennials
ESPPs and other equity compensation plans can strengthen the employer-employee relationship, according to new research from Schwab Stock Plan Services, part of investment firm Charles Schwab. The survey, which looked at the attitudes and behaviors of 1,000 participants who currently receive incentive stock options or restricted stock awards or who participate in an ESPP, found that:
More than three-quarters of respondents (77 percent) said equity compensation was a very attractive benefit, and an increasing number consider it to be the main reason or one of the main reasons they took their current job (37 percent, up from 28 percent in 2019).
Millennial respondents are the most likely generation to identify equity compensation as the main reason or one of the main reasons they chose their current employer (53 percent).
"Employees, especially Millennials, are demanding equity compensation as a highly desirable component of workplace benefits packages," said Amy Reback, vice president of Schwab Stock Plan Services. "Offering equity compensation automatically gives employees a stake in the future success of the company and helps employers to attract and retain the best talent."
Understanding the Risks
Employers often feel that employee stock gives their workers "skin in the game" by providing them with an equity interest in the firm, albeit a small one. For employees, however, the advantages of holding their employer's stock should be balanced against the risks, since stock in a single company is much more volatile than holding a diversified basket of equities in a broad-based fund. In a worst-case scenario involving corporate insolvency, ESPP participants could lose their jobs just as their company stock holdings plunge in value.
Carl Stegman, senior vice president and group manager of Fidelity Stock Plan Services, advised educating employees purchasing company stock to "consider how these benefits fit into your long-term financial objectives"—such as short- and long-term spending needs—"and develop a plan to diversify accordingly."
Related SHRM Articles:
Company Stock Plans Are a Valued Benefit, but Risks Should Be Understood, SHRM Online, September 2016
Sprucing Up Employee Stock Purchase Plans,SHRM Online, July 2013