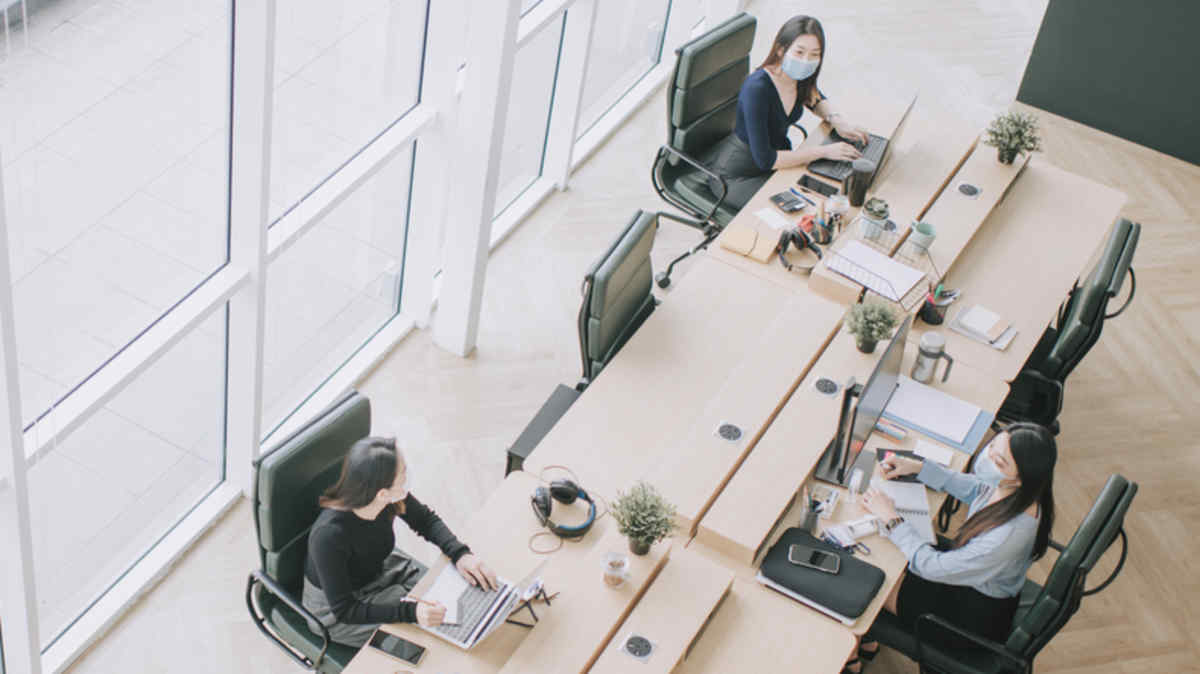 ​How many times have you watched employees shuffle into their workspace, drop their heads, put in earbuds and focus on the screen in front of them?
If you've ever wished you could infuse energy into their routine, now may be your chance.
Despite the challenges of the coronavirus pandemic, human resource leaders are embracing opportunities to influence how work is done once employees return to the office.
Beyond the Cubicle
Instead of having people return to solitary work in cubicles, leaders at Leo Pharma Inc. want them to come back to an atmosphere of deliberate activity, according to John Tomasello, vice president of human resources and communications. The company has about 200 employees in its Madison, N.J., location. Tomasello is exploring options for redesigning office space to create a hoteling or war-room setup to involve more staff in key projects.
"We're thinking of making it like co-working space, so people get excited about coming in," he said. "We're also looking at more career development and mentoring arrangements for when people are in the office, since we already know they can perform many of their work tasks at home."
In Orange, Calif., Isaac Lien, co-founder and head of innovation and employee experience at GrandPad, is taking a similar approach. Instead of bringing all 180 employees back to the office at the same time, the company will set up locations where employees can co-work and collaborate. Employees will also be working from home, and Lien wants to make sure the collaboration continues.
"We see people using our office spaces for high-fidelity, in-person communication and, as such, we've been looking at a lot of ways to improve communication remotely," he said. "We have been looking at virtual reality solutions that will allow people to interact with each other using 3D software in a virtual office. This will allow us to have virtual events that feel more real, where our personal avatars can walk around and interact with each other as we are talking to each other."
Eye on Comfort
Janelle Owens, human resources director at Test Prep Insight, is considering transforming the office layout into one that creates more employee interaction and engagement. One of her ideas is to convert a nook outside of a conference room into a collaboration space with beanbag chairs.
"I am hoping that by creating a very lounge-y and comfortable hangout space, it will encourage employees to pop down with their laptops and take a load off. The casual layout and atmosphere will hopefully help encourage conversation and free engagement," she said.
Owens is also considering a facelift to the kitchen and breakroom, as the space is cramped with outdated equipment. She and the CEO are working on a concept to expand the space, adding high-top tables and chairs.
"I also think by adding an espresso machine and more modern conveniences that it will draw people to spend their breaks in the kitchen, as opposed to at their desk alone," she said.
Return to Open Layouts
Pre-pandemic, open layouts were falling out of fashion. Jacob Dayan, Esq., CEO and co-founder of Community Tax, predicts they will become more popular again, even though an open-space concept still won't be practical for every job. For example, Dayan's employees spend their days on phone calls with clients. A space that blocks distracting noise and provides client confidentially is still needed for some roles.
"I think there [has] been some missed camaraderie from remote work," Dayan said. "So, creating an office space that encourages open communication would be a plus."
Focus on Flexibility
More than office design or workday flow, flexibility is going to continue to dominate decisions on how workspace is used. Jason Von Bank, president and CEO of Wellbeats, a St. Louis Park, Minn.-based company with 50 employees, doesn't think workspaces will be used the same ways day after day, given that "the office" has expanded beyond the four walls of the corporate building.
"From an HR perspective, it will be critical to create a culture of flexibility, empathy, performance management and recognition," he said.
The biggest challenge human resource leaders will face is that some functions simply can't be performed remotely. Some departments and their functions, by nature, need to be in the office. Leo Pharma is considering eliminating requirements for workers to report to the office on certain days or times, according to Tomasello. This could empower employees to decide when to work onsite to support purposeful interactions and encourage intentional engagements.
"Figuring out how to make all that work for people who would like that flexibility but can't [always have it] because of the job [they perform] is going to be tough," Tomasello said.
Katie Navarra is a freelance writer based in New York state.