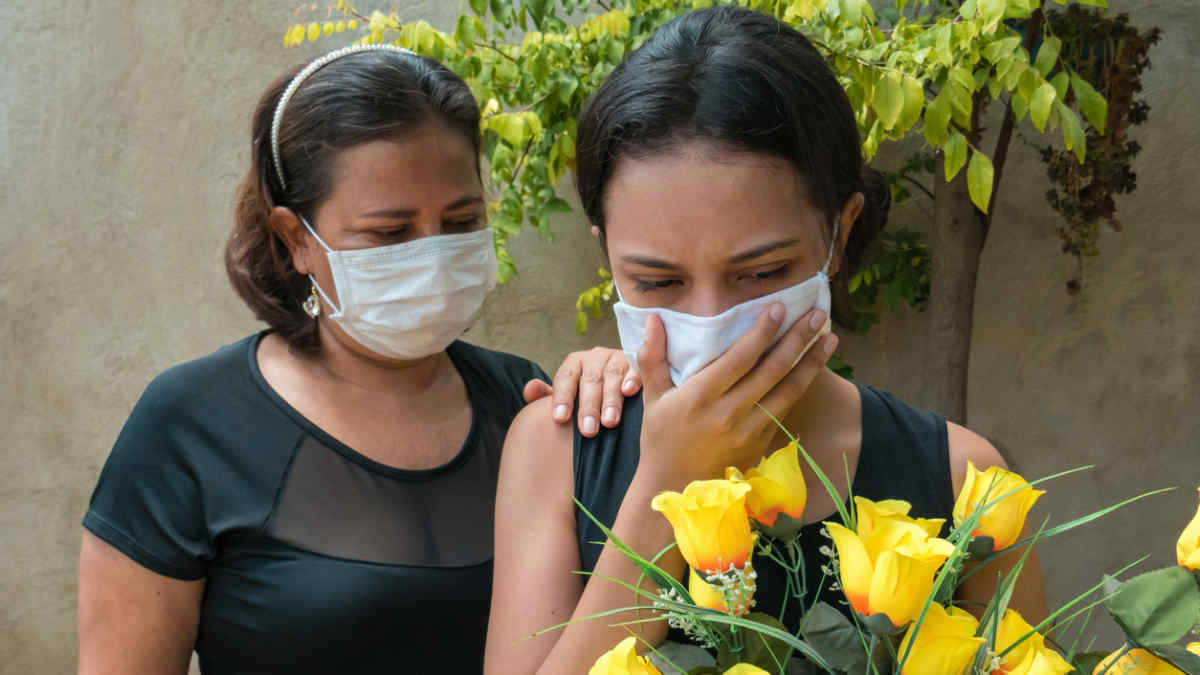 ​As COVID-19 cases and deaths continue to increase across the country, so do the number of workplaces dealing with employees' grief as their loved ones or co-workers become ill or die.
COVID-19 grief is different than other types of grief, warn mental health and grief experts. Managers can better help their workers cope if they understand some of these differences.
"COVID grief is disenfranchised grief," said psychiatrist Joshua Morganstein, chair of the American Psychiatric Association committee that issued special guidance for its members caring for patients affected by COVID-19 grief. "They are living with grief they are unable to express through normal outlets." Among the ways COVID-19 grief differs:
Death from COVID-19 occurs quickly and randomly. Young, healthy people may die, while older people with medical issues recover.
COVID-19's erratic nature—with some family members surviving and others not—can make survivor guilt worse than usual.
The traditional goodbye to loved ones, with handholding and hugging, has sometimes been replaced by a cell phone conversation with a health care worker as the go-between.
Social support for those grieving is often by e-mail, phone or Zoom, not in person.
Other chaos, such as multiple loved ones falling sick or dying at the same time, fear of job loss, or financial problems can make the COVID-19 grieving process worse.
How can managers help? "We are not advocating that leaders become grief counselors," said Anthony Casablanca, a former HR executive who, with his brother Guy, a funeral director and mortician, co-founded GriefLeaders LLC, a training and consulting organization in the Indianapolis area that educates managers on how to help grieving employees. Rather, managers can reach out to see what the worker needs from them and from co-workers. Here's how.
Encourage workers to acknowledge the grief. Allow workers to talk about their grief, whether the deceased person or the COVID-19 patient is a co-worker, a boss or a family member, and join in the conversation, Morganstein said. For managers, "sometimes this is difficult," he said, as managers may worry they will be perceived as losing control if they become emotional about others' grief. They may also worry they won't know how to handle things if a worker becomes overwhelmed by grief. "The manager can model that it's OK to be real," he said. A manager must be prepared to assume the role of a "grief leader."
When researching for their book on how to help grieving workers, The Dying Art of Leadership: How Leaders Can Help Grieving Employees (Bookbaby Publishing, 2020), Casablanca said workers often told him and his brother: "I was so thankful I could talk about my situation at work."
Suppress judgment. When someone first talks about a COVID-19 diagnosis, the judgment can be swift and overwhelming, said Rachel Kodanaz, a Denver consultant, grief expert, COVID-19 survivor and author of Grief in the Workplace: A Comprehensive Guide to Being Prepared (GIW Publishing, 2015). "People often ask: 'Were you at a party?' or 'Did you wear a mask?' " Managers can remind their workers: As judgment increases, empathy decreases.
Keep quiet about your own story. Telling a grieving person your own grief experience might seem helpful, but it's not, Kodanaz said. It minimizes the feelings of the other person. At some point, she said, you might tell them you've had a grief experience and you're open to talking about it. But not when they are newly grieving. "This way they won't feel shut down."
Help workers find a way to honor those affected. This is important not only for workers who have experienced the death of a loved one or co-worker, Morganstein said, but also those who've experienced the sickness of a loved one or co-worker. For instance, if a co-worker is hospitalized with COVID-19 and was an avid runner, workers might decide to make a group video of themselves running and send it to the person or the person's loved ones, to show support and to show that they are thinking of them. The effort would likely help the group feel connected as well, Morganstein said, and that social connectiveness can ease grief.
Gauge the worker's immediate support need. "If an employee's spouse lost his job and they can't pay their bills, they may need more practical support than emotional," Morganstein said. For instance, a manager might consult with HR to see if there are discounts for necessities like child care. "It's important that the managers not feel they have to do it all themselves," Morganstein said. They can lead the effort, but also rely on the help of other departments.
Be as flexible as possible. Bereavement benefits are often too brief, Casablanca said. About 88 percent of companies offer some paid bereavement leave, according to a 2018 Society of Human Resource Management survey. Most companies that offer the leave allow employees to take off two to four days for bereavement. To meet the need for longer time away, "we have found that managers have a lot of flexibility in adjusting work hours or allowing people to use vacation on short notice," Casablanca said. Before offering those possibilities, however, find out how the grieving worker is coping and what is needed.
Watch for signs of struggling. "Don't wait for performance to slip," Casablanca said. Be observant. If a generally talkative person clams up at meetings, that's the time to invite them to talk privately, Casablanca said. Instead of grilling them, simply let them know you are available to have a conversation about how things are going. Keep the talk simple and to the point; for example, say: "I can't imagine all the emotions you are feeling. We want to help you through this." Then, let them tell you how to do that.
Kathleen Doheny is a freelance writer based in Los Angeles.