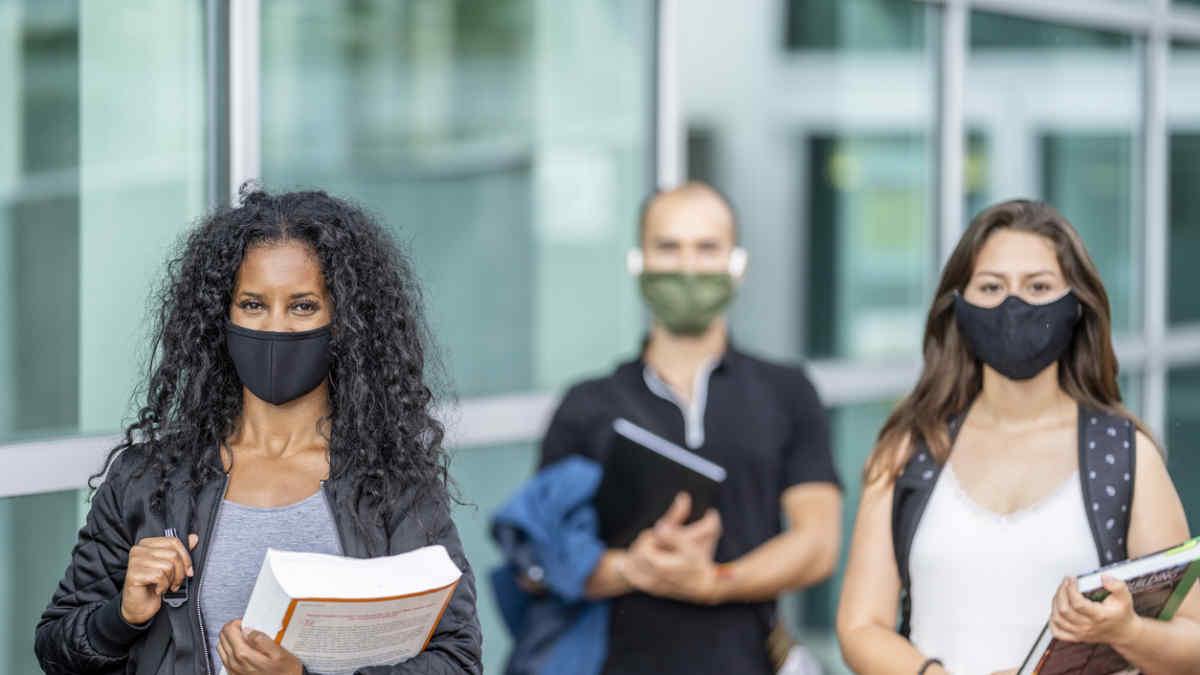 ​As universities across the country decided how to approach the fall academic school year during the pandemic, a common theme was how supervisors should prepare professors for remote or hybrid teaching.
What ensued was a wealth of new and unpredictable challenges.
Those challenges ranged from learning how to use video communication platforms like Zoom, to Internet connectivity problems, to what professors should do with their children while they were teaching.
Many institutions have implemented training in forms of webinars and workshops and have provided resources to support teachers' well-being, help them teach remotely and provide grants for financial relief.
Support for Virtual Learning
Several universities welcomed all or most of their students back to campus and moved forward with at least some in-person classes, while also offering students remote or hybrid learning.
Having students on and off campus made teaching difficult for professors as they balanced a variety of learning platforms, knowing that students are in different environments with different stressors.
For instance, professors had to adapt to online asynchronous and synchronous teaching. Asynchronous classes are those where students don't have to join class in real time, but rather have assigned work to complete on their own. Synchronous classes require students to join class at a scheduled time. Both types of classes have their limitations: Asynchronous classes are less structured; synchronous classes may be troublesome for students and faculty who lack technical expertise or have computer hardware or Internet connection challenges. Professors tackled this dilemma with the "flipped classroom" approach, in which materials for class are given ahead of time to give students more flexibility to complete their work and to leave time for discussions during class time.
Adding to the challenge of teaching this way is that students were not shy in voicing their concerns and opinions on how professors taught and how it influenced their learning and motivation, or lack of it. Professors sought a balance between ensuring that courses were rigorous while also being compassionate about students' circumstances.
Ruth McBain, manager of media relations at Georgetown University, noted that the school's Center for New Designs in Learning and Scholarship (CNDLS) has been a very important resource for Georgetown's faculty.
"Over the course of the summer, about 1,900 of our faculty have participated in CNDLS workshops designed to help them with virtual learning techniques, with 1,200 participating in intensive training," she said. "This level of commitment by such large numbers of faculty is … unique."
These workshops were webinars on how to use Zoom, assess students online, have productive discussions, accommodate students, and understand the impacts of COVID-19 on students and how professors might help.
The CNDLS platform provided diverse and descriptive tools for all areas of teaching. Templates gave tips on how to organize courses, record lectures and adapt assignments to an online format. Guidebooks covered how to build a community and engage students in an online classroom. The workshops were recorded for professors to watch as needed.
At James Madison University, a public university with approximately 20,000 students in Harrisonburg, Va., the hybrid approach to teaching—in person and online—is called HyFlex teaching. It's presented professors with several challenges, said Fletcher Linder, the university's associate vice provost.
The university tackled these challenges through faculty development and orientations that focused on online course instruction. The university also made mental health and child care services available for faculty, as well as computer loaner programs.
Dickinson College, a private liberal arts institution in Carlisle, Pa., created a "Ready for Fall" working group composed of faculty and staff with expertise in pedagogy and online teaching, as well as students. The group developed a program to prepare professors to teach in an inclusive and high-quality manner, Dickinson Provost Neil Weissman said. He explained that this program included modules that presented best practices for remote teaching, especially in foreign language instruction and science labs.
Supporting Faculty Home Life
At Gettysburg College, a private liberal arts college of about 2,500 students in Gettysburg, Pa., many faculty members were faced with the challenge of managing their work responsibilities while balancing home life, especially faculty with young children at home or school-age children taking classes at home.
"It has taught administrators that this is the reality of the faculty members and that there are a number of things that will come out of this working better, with more generosity and more understanding of the ways work and life were blended, especially now," said Jennifer Blomquist, associate provost for faculty development.
Many colleges have extended their tenure clock by one year, in hopes of giving faculty more flexibility with their time and easing the pressure to conduct research or to publish.
"In general, we've tried hard to get the message out to faculty during the pandemic that they didn't need to do everything perfectly, and that they should prioritize taking care of themselves," said Eric Weeks, director of the Center for Faculty Development and Excellence and associate vice provost for faculty affairs at Emory University in Atlanta.
Electa Willander is a freelance writer based in Gettysburg, Pa.