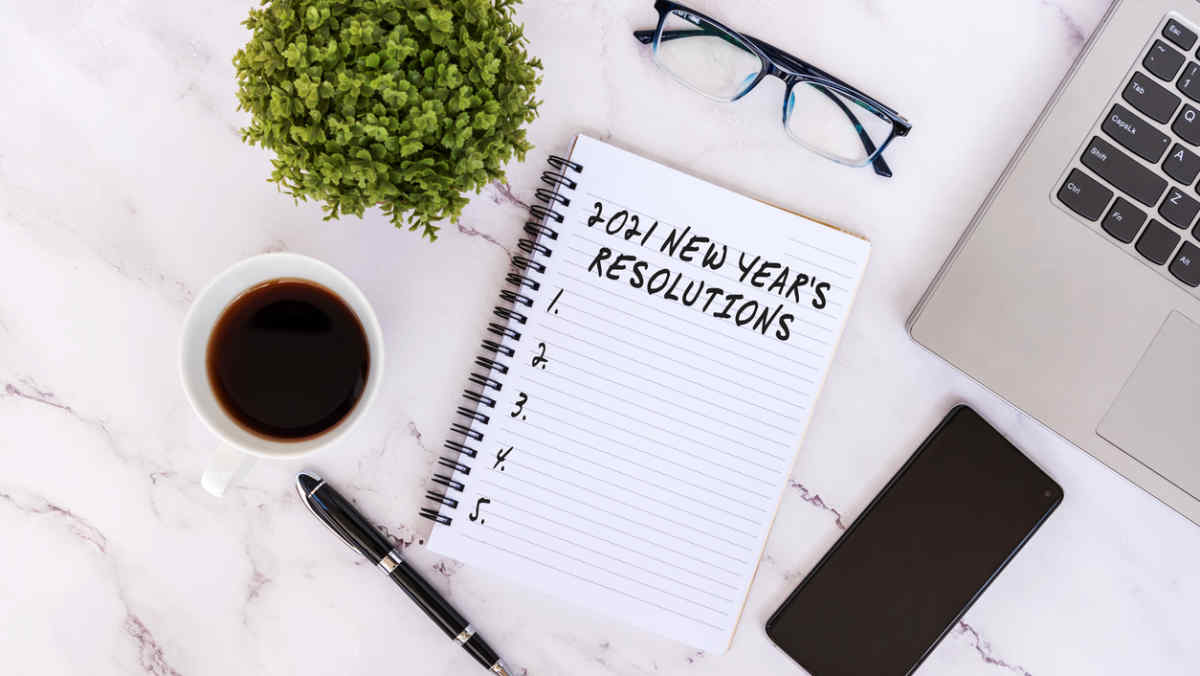 Exercise more. Eat less. Catch more Zs. These are typical ways people resolve to improve their lives at the start of a new year. But work-related resolutions are important, too. SHRM Online collected the following goals that HR professionals and other business leaders have for improving their workplaces in 2021.
Promoting Learning, Development
"One of my resolutions for 2021 is to develop a robust training and development program. … Perhaps this looks something like more self-service training, providing our new hires with everything they need from day one (courses, videos and packets on culture and expectations, or training/crash courses on our technology). I've even wanted to start a program that allows new hires to connect with veteran employees—impromptu video calls that let them engage and reminiscence as if we were back in the office."
—Felicia Daniel, SHRM-CP, HR manager at TINYpulse, an employee engagement software company in Seattle
"I have three resolutions for 2021. They are
1. Expand HR knowledge by taking more in-depth seminars for diversity and inclusion to provide adequate training practices for my client.
2. Lead speaking engagements that empower women in the workplace.
3. Mentor and support young women entrepreneurs."
—Nicole Anderson, owner and chief executive officer of MEND, an HR solutions firm based in West Palm Beach, Fla.
"Help leaders embrace remote work as a long-term dynamic. We've learned that a lot of jobs can be successfully done remotely, so this is a great time to start talking about how remote work can operate long term and training leaders to effectively manage their remote employees."
—Rebecca Southern Mills, HR consultant and founder of Simplecated, a Marietta, Ga.-based provider of management-related HR guidance
"I have a New Year's resolution to purchase and read one book per month written by a minority. I want to be someone who supports people who do not look like me and who have not had the same experiences as me. I believe by buying the book my money goes to supporting them, and by reading the book I am learning more about different experiences and perspectives. Even through reading fiction, we can learn [and] begin to understand and appreciate new perspectives."
—Alison Pearson, head of HR at Hal Waldman and Associates in Pittsburgh
Supporting Inclusion
"Bring more minority employees into the tech community who have been trained and have the skills to use our technology and be competitive in the future of work. Additionally, I resolve in 2021 to continue focusing on more holistic employee well-being initiatives at UiPath, from physical to mental and emotional well-being. The remote-work environment can make the pressure of work feel inescapable, consequently hindering productivity and depressing moods."
—Andreea Baciu, vice president of global talent development at UiPath, a New York City-based computer software provider for businesses
"We want to …work toward growing our employee resource groups across all 16 territories. [And] create more intentional sponsorship opportunities among employees … which involves someone in a position of leadership advocating for their 'protégé' even when they are not present."
—Olumide Cole, co-director of cultural diversity and inclusion at Power Home Remodeling in Philadelphia
Listening, Communicating
"2020 taught me that there's a lot more unrest simmering below the surface of things than I realized. For 2021 I've resolved to embrace the wisdom of the crowd. Instead of just creating policy and imposing [it] on employees, I'm going to survey people to see what they're thinking and feeling and allow that to guide my decisions."
—Todd Ramlin, manager of Cable Compare in Salt Lake City, a website that reviews television and Internet plans
Advocating Wellness
"I'm resolved to create even more opportunities for our diverse colleagues to care for their own well-being in ways that are personally meaningful to them and to create space for supportive conversations throughout our institution. For example, we are launching a well-being platform for colleagues and their spouses, as well as appointing a wellness ambassador within each department to lead initiatives and conversations. We are also creating new resource groups within our [diversity, equity and inclusion] program and launching an institution-wide implicit bias training."
—Dave Barnett, chief human resources officer at DeVry University headquartered in Naperville, Ill.
"As mental health has become a necessity amid the pandemic, I'm excited to launch Remote's first 'self-care day' on February 15. On this day, each employee at Remote is encouraged to take the day off and do something they love, specifically to create mental health awareness during the pandemic. We are hoping to have this initiative once a quarter and are planning to add a few more dates for the coming month.
Our next resolution is focused on improving our learning and development initiatives. As our team has been scaling quickly, we are planning to launch a Manager's Day focused on developing and training our leaders to be strongly aligned with our company's core values."
—Nadia Vatalidis, director of people at Remote, an HR technology platform for international payroll, benefits and compliance
"One of our HR resolutions and priorities for 2021 is to continue taking a broader approach to enhancing the employee experience. … that means focusing on the employee's everyday experiences beyond the hours of 9 to 5. That includes offering support for matters of physical and mental health, creating healthy and productive [work from home] environments, offering more flexibility in work schedules, creating meaningful moments for social connection virtually, and much more."
—Sam Friedman, senior vice president of people strategy at Vettery, a hiring marketplace
Automating Systems
"My resolution is to set the following for automation this year:
HR department plans.
Recruitment and onboarding process.
Pay structure and benefits system.
Comprehensive training program and performance management system.
Audit strategy.
These automated areas can help improve the HR and executive management experience when it comes to reducing human error, lowering paperwork and improving visibility of project status."
—Michael Hamelburger, financial consultant and CEO of The Bottom Line Group in Baltimore
Making 'It' Happen
"If it's important, or if it's something I need to learn, I can't put that off for another time but need to either do it now or schedule it now. This is the corollary to 'what gets measured gets done': What gets scheduled gets done!"
—Howard Prager, president of Advance Learning Group in Vernon Hills, Ill., and instructor of senior HR classes for the Cincinnati-based Human Capital Institute
"My new resolution is to become OK with failure. With COVID, I have had to become comfortable with failure because it was so inevitable—both in the plans I had set for our business, as well as in my personal life. If anything, before 2020 and COVID, sometimes the fear of failure would drive me to overthink things too much upfront, and you end up making something too perfect. … [Now,] instead of worrying to make something perfect, we got things out quicker, even if there was a chance they'd fail."
—Marja Verbon, founder and chief operating officer of Jump.Work, an information technology and services company in London