​As the COVID-19 pandemic forces offices around the country to shut down, some organizations have found creative ways to bring employees together in person, helping to foster camaraderie and a sense of belonging.
In its hometown of Louisville, Ky., health insurance company Humana set up outdoor office spaces in city parks starting in September, where dozens of employees could work, grab a bite from a food truck or hold socially distanced birthday parties.
"No matter how productive we were working remotely, everyone desires connection with their teammates," said Brad Keller, Humana's director of workplace strategy.
Most employees had been working remotely since March, and many longed for face-to-face interaction. "We were looking for safe ways we could address that need," Keller said.
The idea for outdoor offices grew from the trend of people eating outdoors at restaurants. Working with the city of Louisville and the parks department, Humana set up massive tents in several parks with workstations, Internet connections, portable restrooms and outdoor heaters when the temperatures dipped. Seats were 8 feet apart.
Employees could reserve space, with capacity capped at 150. About 1,500 people took part over six weeks.
While the space was designed for individuals to work, teams also made plans to gather there. "It was the first time many of them had seen each other in seven months," Keller said.
Food trucks were brought in, dogs were allowed and the insurer even held events, such as a dog costume contest for Halloween. "It almost became an event space," he said.
"I really loved the person-to-person connection and opportunity to see my teammates' faces," said London Roth, chief of staff for Humana's Medicare northeast division.
Humana's outdoor offices now are on pause because of the cold Kentucky weather, Keller said. But the company is looking to hold pop-up events in indoor-outdoor environments, such as event spaces that have doors opening outside, allowing air to circulate.
"Any time they'll do it, I'll be there," said Kapil Gupta, principal enterprise architect for information technology. "It's so good for my mental health right now."
Humana is also looking into expanding the program to its Sunbelt locations, such as Phoenix and Tampa, Fla.
In Rosslyn, Va., an outdoor office space called O2 was set up at a park for use by any local workers, said Mary-Claire Burick, president of the Rosslyn Business Improvement District (BID).
The BID wanted to "provide new workplace options during a challenging time," Burick said. The organization worked with the local county government and parks and recreation department to bring the idea to fruition.
"Throughout the pandemic, we've been in regular contact with our neighborhood businesses, restaurant owners and residents. Based on their feedback, we saw the need for a temporary extension of office space that included areas for team collaboration," Burick said. "We know that safe outdoor public spaces are key to maintaining mental and physical health and helping people stay connected to their community."
People could reserve 90-minute time slots at O2, with 30-minute breaks between reservations so the workstations could be sanitized. Capacity was limited to 40 people.
The BID provided standing and seated desks, chargers, whiteboards for teams and even blankets for chilly weather. The organization also partnered with two local restaurants for food delivery.
The outdoor office was available from mid-October to mid-November, and about 800 people reserved spaces at O2. The office space is now on hiatus because of the cold weather.
In California, rather than cancel its annual leadership team dinner and evening at the opera, personal finance software company Quicken moved to a socially distanced dinner at a local winery, complete with a violinist and a harpist playing classical music.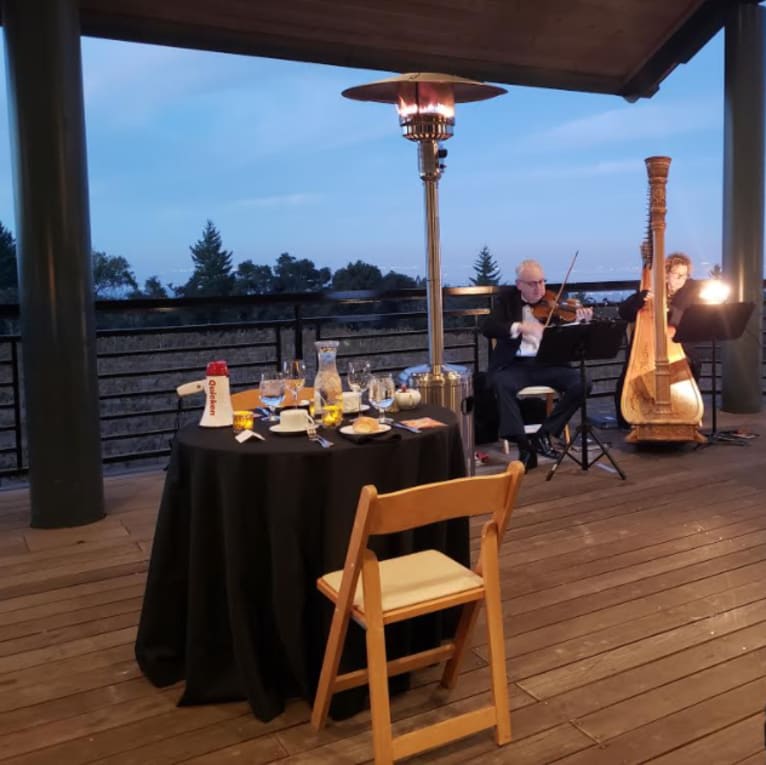 After the end of each fiscal year, Eric Dunn, chief executive officer of the Menlo Park-based company, hosts the dinner and opera event to thank the leadership team, said Chief Marketing Officer Linda Itskovitz.
This year, the event was held outdoors at the winery in November. Tables were placed 6 feet apart, and each member of the leadership team had his or her own table. Spouses were also invited. Bullhorns with the Quicken logo were used to communicate between tables, Itskovitz said. And each table came equipped with heat lamps and hand warmers.
Quicken's leadership team had not been together since early March. "It was so much fun with the bullhorn, and it was so nice to see everyone. It was a reminder to me why I love working at Quicken," Itskovitz said. "I think this might be a new tradition."
The company also supports in-person, socially distanced events with employees. If they want to have a socially distanced lunch together, Quicken will cover the cost, Itskovitz said.
In addition, Quicken allows employees to get together for socially distanced hikes during the workday, and employees don't have to take time off. Instead, it's considered part of the workday.
"Part of work is connecting with other people we work with," Itskovitz said. "I think it's important to do special things during this time. People can feel very disconnected."
Susan Ladika is a freelance writer in Florida.